Before the party
Isn't she great? You definitely have to see all the Polliana videos cause they are so damn hot that I have nothing else to say! She is super horny and naughty today and she couldn't wait to arrive at home, to have some spare time with herself, take care of that smoking hot body of hers! You will adore her in this terrific update, trust me, cause she is going to make love with her sizzling hot body, taking care of her with so much passion that she will totally make you horny. She lifted her skirt, just to have some access to her intimate parts and she also shoved her hand under her top, cause she wanted to reach one of the boobs. She adores taking care of that boobie and she loves to mess around with that nipple of hers, until it will get all hard.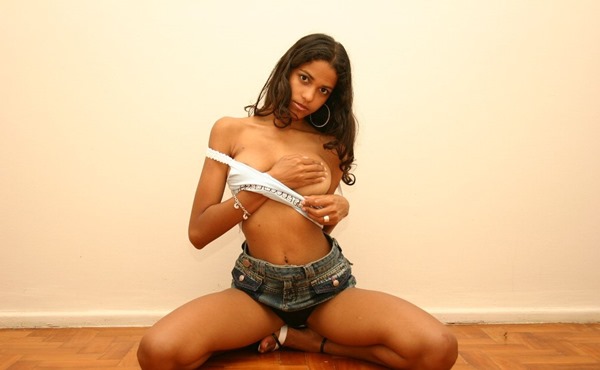 But she is going to wet her finger at first and only after that she will touch her nipple with it, cause she likes it when it's becoming all pointy and hard. You will love the way her boobies will end up having goose bumps all over, cause she really got turned on, without any other help from the outside. Just look at this black beauty, isn't she gorgeous like that, with her sizzling hot body of hers? She can make you do whatever she wants too, trust me!
Watch as horny Polliana plays with her sexy big boobs!