The following Polliana videos are going to impress you a lot, trust me, cause your favorite babe is going to get really dirty and she is going to play with you and your mind, trust me, just like she always likes to do. This sexy brunette adores being alone at home, sometimes, cause she has all the time in the world to have a little quality time with herself and her sizzling hot body! She adores the way her skin feels like when she is being covered with body lotion so she is going to play a lot with herself and her body today, just the way she wants it!
She will lay down on the bed and she will slowly get rid of her clothes, cause she feels super naughty now that she warmed herself up for a bit! Other than that, she adores it when she is filled with perfumed lotion cause it's so damn hot and her hands are so slippery that they just slide on her amazing body! Have a great one, guys, enjoying our beautiful babe and her gorgeous video! She is willing to expose more of herself today, just for you, but you have to be super patient with her, cause she needs a little time!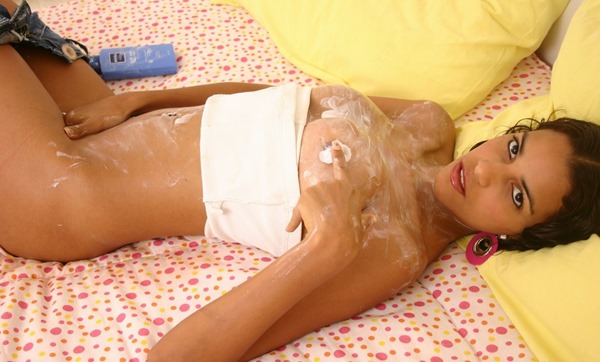 Watch naughty Polliana rubbing her boobs and wet pussy!